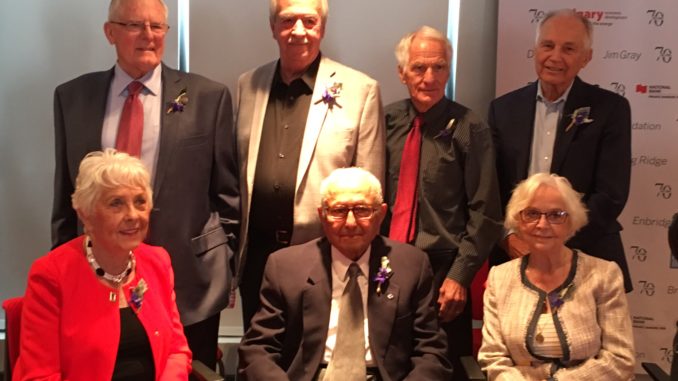 Organizers of the Top 7 Over 70 initiative released the names of the first-ever recipients of these awards on Tuesday, Sept. 19, 2017  in Calgary. The winners' accomplishments range from becoming an internationally-awarded athlete to being nominated for a Juno. These Top 7 Over 70 recipients have started international businesses, built baseball stadiums, patented products, established charities and become leading scholars. And, this has all occurred since the winners turned 70.
"When we started this project, we couldn't have imagined the high quality of nominees we would see," said Top 7 Over 70 founder Jim Gray. "We were blown away by the accomplishments and achievements of these people."
The organization received 78 nominations for the awards, said Gray, noting there could have easily been dozens of winners. (In addition to the Top 7 awards, a number of other nominees received citations of honour.)
"The competition was extremely stiff," added Gray. "The nominations clearly show that Calgary is home to incredibly talented, and diversely talented, older adults. Their work in improving our community and economy is powerful."
The first Top 7 Over 70 winners are:
Gerry Miller — One of the top five runners in the world in the 80-plus age group, Gerry recently won second in this category at the Boston Marathon, but says his true passion is inspiring health and positivity in others. He's now working on complete the world's six big marathons.
Vera Goodman — An 82-year-old educator who believes in dreaming big, Vera is planning to take her reading program called Story Circles to First Nations across Canada and to Third World communities around the globe. She recently returned from Guatemala, where she was training teachers.
Don Seaman — At 92, Don still works nine-hour days, even after six decades of making a difference in the Calgary business and philanthropic communities. He's started a number of new business initiatives after age 70, while contributing time and funds to make the Seaman Stadium a reality.
Alan Fergusson — After being diagnosed with cancer, this now-83-year-old physicist began researching natural alternative treatments, which led to the creation and patent of an immune supplement. Health Canada has approved the supplement and it is sold around the globe.
Marjorie Zingle — This 81-year-old business warrior is the only woman in the world to own a data centre 100 per cent, in a male-dominated industry. Her company, DataHive, has made significant contributions to the Internet in Alberta.
Dr. Amin Ghali — Despite "retiring" as a U of C civil engineering professor many years ago, Dr. Ghali has stayed active researching, mentoring, writing and patenting two engineering devices that are sold around the world. This comes on top of a full slate of outdoor and volunteer activities that fill his days.
Al Muirhead — An accomplished jazz artist, this 81-year-old Calgarian had played with greats such as Dizzy Gillespie and Rosemary Clooney throughout his career. But, he decided to switch things up when he recorded his first solo album at age 78 and ultimately received a Juno nomination.
Full profiles of the winners will be published in the coming weeks.