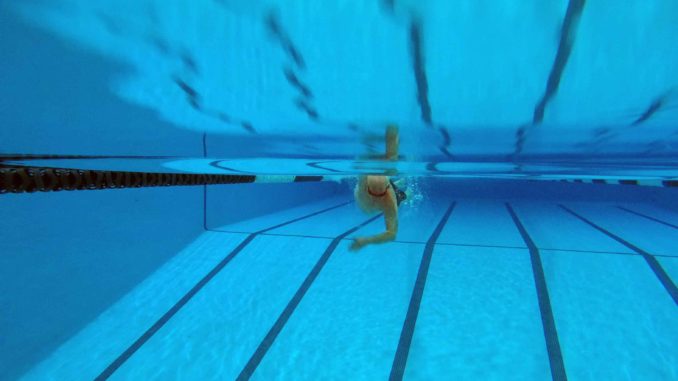 Reprinted with permission from Postmedia Calgary
Originally published Friday, Feb. 27, 2015

By Deborah Yedlin

When Jim Gray slips into the pool at the Eau Claire YMCA today, it will be to complete a journey that began in 1992, when lifeguards challenged a group of early morning swimmers to swim the distance between Calgary and Vancouver.
Once that goal was conquered, after 38,900 lengths in the 25-metre pool over three and half years, Gray wasn't ready to quit. He was entrenched in the habit of hitting the water each morning at 5:30.
"Was I going to stop there? It never occurred to me," Gray, an octogenarian, said this week.
Metaphorically, he turned around, swam back to Calgary and then kept going east.
The end of this journey comes today – marked by the last of the red dots, at St. John's, Nfld., that highlight 25-kilometre increments on one of many maps that hang on Gray's office walls.
The final marker represents more than 300,000 lengths swam over 23 years – 98 per cent of them in the Eau Claire Pool – with the numbers logged daily in the 23 Lett's pocket diaries, where Gray recorded his progress.
Gray is as much a legend in Calgary for his daily swimming marathon as he is as an oilman, philanthropist and tireless advocate, nay crusader, of the importance of health and wellness.
Which is where the Y fits in.
Were it not for Gray's vision and leadership, the Eau Claire YMCA would not exist. Camp Chief Hector would not be where it is, nor would a YMCA be embedded in the South Health Campus.
His Y connection began long before he was born in Kirkland Lake, Ont., during the First World War. His father, while serving with the Canadian Army, was fed, as so many soldiers were, by YMCA Canada.
"There's an entry in my dad's diary that says he had chips and eggs at YMCA Canada," says Gray, pulling out a black and white photo showing troops beside a YMCA Canada sign.
His own Y journey began in the 1950s when he arrived in Calgary as a summer student and landed at the Y on 6th Avenue and 3rd Street.
Gray came back to Calgary in 1956 and later co-founded Canadian Hunter Exploration with John Masters in 1973, finding time in between to get married in Banffin 1961 after meeting his future wife, Josie, at a Mount Norquay ski lesson.
The story of Canadian Hunter – which went public in 1998 and was sold to Burlington Resources for $2.1 billion in 2001 – is Canadian oilpatch lore. But it's past history for Gray.
"I have had that life, this (philanthropy) is what I am interested now," Gray said during a short break from his swim Thursday.
As much as Gray is inextricably connected to the energy business – these days he carries with him an oil price chart dating to the early 1980s to remind people downturns don't last – it's his passion for the community and the Y that is infectious.
"We see Jim as a great role model," said Calgary YMCA president Helene Weir. "He has supported many great causes … and we are fortunate he has included the YMCA as one of those causes."
Gray's fingerprints are on myriad undertakings in Calgary, such as chairing the first Petroleum Show in 1966, serving as chairman of the Canada West Foundation, as a director of the Stampede and as the driving force behind numerous organizations, including the Calgary Homeless Foundation and Science Alberta.
But for all he's done, Gray isn't interested in recognition. That's why it took time to get him onside with renaming the Eau Claire Y to the GrayFamily Eau Claire YMCA.
From Weir's perspective, it was important to give back to Gray, who co-chaired the capital campaign for the Eau Claire Y in the wake of the 1986 downturn in the energy sector, not unlike the situation today.
The story goes that Oxford Developments was the biggest landowner in Eau Claire, with a commitment to build a recreation facility. Between Oxford's commitment and the site of the existing Y that fetched more than $7 million, Gray and his committee had to raise $5 million to build the facility. They did it within a year and the Eau Claire Y opened in 1988.
Weir says it took time – and the help of Brian Felesky – to convince Gray to allow YMCA Calgary to honour his contributions by re-naming the facility. "I don't know of one person in the country who is such an insatiable, tireless, 24/7 citizen as Jim Gray … who has done so much and been so modest," said Felesky, a well-known Calgary lawyer, community leader and long time friend of Gray's.
A new $30 million, five-year capital campaign, called Power of Potential, is being launched to equip new recreation facilities the Y will operate on behalf of the City of Calgary.
Gray is well aware of the difficulties presented by low oil prices but comes back to the fact that if it could be done in 1986, it can be done now. And he believes the Y is even more important during trying times, noting more than one-third of YMCA 75,000 participants are subsidized.
Gray's unshakable belief in the link between health and wellness, harkens back to the Latin axiom Mens Sana In Corpore Sano – a healthy mind in a healthy body.
If he isn't finding inspiration during his daily swim, Gray is devouring books on health and wellness, including What Makes Olga Run, a book about Olga Kotelko, who started competing in track and field events at age 77. At the time of her death last year at 95, Kotelko held 26 records in her age group.
"It says here in the book that people are more optimistic, more positive if their brain is healthy. Maybe that's where I get my optimism from," said Gray.
Or maybe that's what makes Jim swim.
Deborah Yedlin is a Calgary Herald columnist; dyedlin@calgaryherald.com.
Editor's note: Since completing his swim across Canada, Jim Gray's routine continues to include a daily swim.